Fight Solutions HQ specializes in Muay Thai, Brazilian Jiu-Jitsu, and Mixed Martial Arts —commonly referred to as "MMA."
All of our classes are designed for individuals looking for a workout regimen that will take them to their highest level of fitness or competition while learning the techniques of Muay Thai, MMA, Brazilian Jiu-Jitsu, Boxing, Wrestling, and Submission Grappling.
Fight Solutions HQ is a family-friendly, bully-free atmosphere that accommodates all levels of training in a safe and clean environment. If you're a fighter or would like to pursue your dreams of becoming a fighter, or you just want to get in shape with top-level training, we have what you're looking for.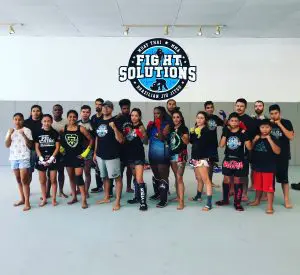 Head Coach - Muay Thai & MMA
Personal Trainer, Performance Enhancement Specialist
Contact Fight Solutions HQ
Feel free to contact us or request any additional information using our contact form below.
"*" indicates required fields