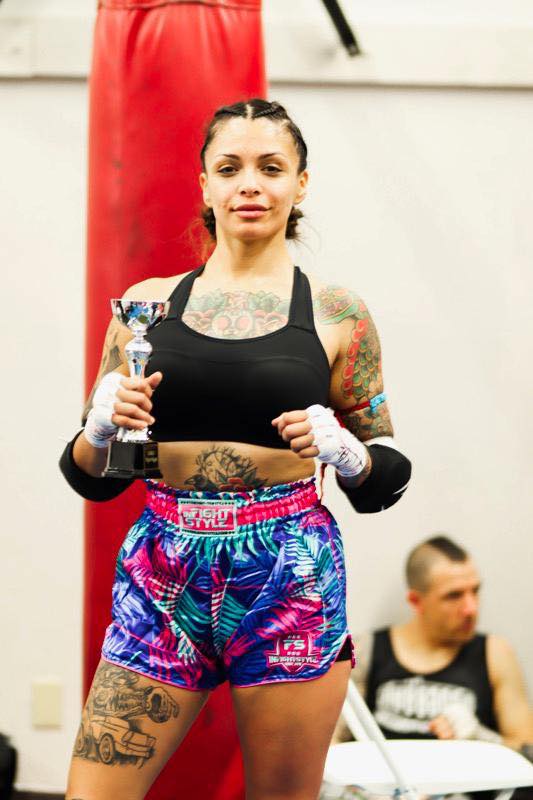 Name: Rachel Avila
Ring Name: Rachel Avila
Gym: Fight Solutions HQ
Coach: Gerson Schilipacke
City: Long Beach CA
Weight: 125lbs
Muay Thai Record: 2-1
K1 Record: 0
MMA Record: 0
Q: How did you become involved with Fight Solutions HQ?
A: I moved to Long Beach and was looking for a new gym.
Q: How long have you been training Muay Thai, BJJ, or MMA. and what age were you when you had your first fight?
A: I have been training 2 years now and I was 31 years young.
Q: How would you describe your style of fighting?
A: Definitely an aggressive fighter with lots of power.
Q: What win has meant the most to you?
A: I have 2 wins and it was extremely accomplishing.
Q: Have you had success in open tournaments? Or do you prefer single matches?
A: I debut at a tournament in which I acquired my first L but I'm given it another go this year. Currently I prefer single matches because the anticipation of meeting face to face with someone who has planned to rip your head off for the last 3 months really brings out the beast in me.
Q: What was the hardest fight you've ever had?
A: I think my first fight was the hardest being so new to the experience. Learning not only the physical but mental aspects of competing.
Q: Who hits the hardest out of everybody you have ever fought?
A: Me.
Q: What is the biggest adversity you've had to overcome to win a fight?
A: I think time management for training being that I have a full time career and 3 children.
Q: If you could fight anybody at or around your weight, who would it be and why?
A: I'll fight anyone I'm able to learn from! The more challenging the better.
Q: Have you ever trained or fought out of any other gyms previously?
A: I began Muay Thai at Al Martinez Muay Thai in Wilmington Ca for 3 months prior to going to Fight Solutions HQ.
Q: What drives or inspires you to continue to train and fight?
A: I love the challenge and to see what I'm capable of. Also to show my kids what I'm capable of.
Q: If you have fight experience in Muay Thai , K1 and MMA which do you prefer and why?
A: I would like to eventually dabble in the MMA experience.
Q: Do you have any other interests or hobbies that you would commit more time to If you didn't dedicate so much time to fighting and training?
A: I am also a seamstress and make clothing @Gemsoriginals.
Q: Do you now or have you ever trained in any other martial arts or fight sports?
A: I also train in BJJ when not in fight camp.
Q: Do you currently have any fights lined up? and what are your plans for the future?
A: I Just got a TKO Win last Saturday at USKO, USMTO.
Q: Any special thank you, sponsors, family…..
A: Id like to thanks my coaches for always pushing me. Also, my husband and kids for always sacrificing alongside me while I train.